04/11/2022 | Projects
2nd Call for WBAA Project Ideas 2022: Selected Projects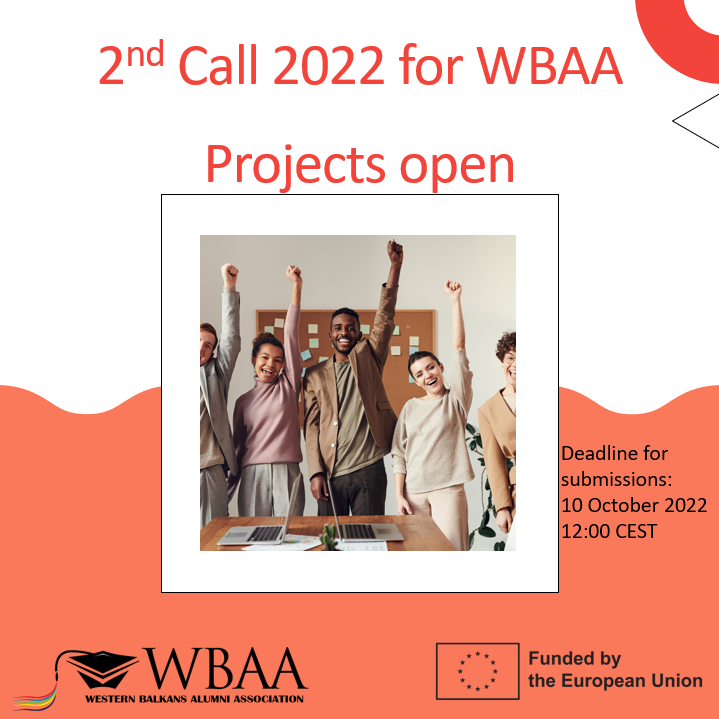 After the evaluation process of the project ideas for the 2nd WBAA Project call 2022, four ideas have been selected to move forward to the elaboration phase. The evaluation process involves the Service Provider, the WBAA Regional Board, and the European Education and Culture Executive Agency (EACEA).
The following projects were selected to start the elaboration phase:
"WWW (WBAA Website Workshop)"
"Sustainability in Fashion and Food Industry as a part of the EU Green Deal andthe UN Agenda 2030 strategies, and the role of Western Balkans Countries"
"WB6 EnviroMental Citizenship and SDGs Training"
"Erasmus+ Buddy Match Web Application"
In this call, 15 project ideas were submitted. In the elaboration phase, clearer details will be provided by the project coordinators. This information will be consulted with the Service Provider and projects that meet the criteria will be accepted by the EACEA for implementation. We are expecting to start the implementation phase in December 2022, and to go until June 2023.
We want to use this opportunity to congratulate to the selected projects and wish them a very successful implementation phase!
If you have a project idea, and you want support, stay tuned the next call for project ideas will be published very soon!
Bachir Bibouche on behalf of the Service Provider
Germany, Cologne, 04 November 2022