13/10/2021 | News
Adnan Rahimić – Bosnia and Herzegovina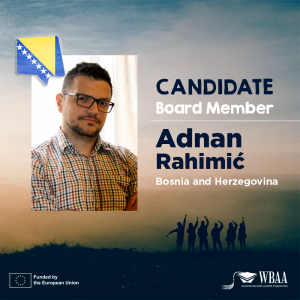 What is your motivation to apply for this position to become a Board member for the chapter Bosnia and Herzegovina?
My biggest motivation would be to challenge Erasmus+ alumni (students and staff from B&H and the region) through mutual collaboration, innovative projects and networking. As the national representative at WBAA and working at the University of Sarajevo (partner to many Erasmus+ HEI's) I have learned more about importance of organisation such as WBAA, so my focus will be further and innovative promotion of the Erasmus+ and raising awareness of international experience. I will work hard to become an active networking point for local, regional and EU students and staff members in order to establish partnerships, as well as to start new projects. I have been working long enough in this "Erasmus world" to learn the behaviour of Erasmus players and their focus of interest when applying to international mobility and their engagement afterwards. My current work environment will help in the active promotion of WBAA, organizing different activities, hosting events and enabling collaboration and networking within the WBAA community and further.
What are your plans for being a Board member? (What is your action plan for the period you are selected?)
• Active and innovative promotion of WBAA through indoor and outdoor media, online and face-to-face events.
• Inclusion of new members, former Erasmus+ students from B&H into WBAA
• Inclusion of young researchers and academic staff from HEIs who have previous Erasmus+ or other international experience in exchange
• Promotion of WBAA open calls for projects through informative days for open calls, organizing workshops for networking and writing the projects
• Promoting an active alumni online platform and mapping all WB alumni resulting in providing the space for networking, chat, discussions, cooperation and job-seeking activities.
• Promotion of Erasmus+ and similar EU funded programs by organizing informative days, print material, presenting opportunities, advantages of the mobility, workshops on how to apply, etc.
• Organization of testimonial sharing within forum and presentation days where we would invite alumni to share their stories and contribute to the increase of future application (word-of-mouth).
• Promoting the terms "brain circulation" and "brain gain" that explain the advantages of international mobility focusing that it doesn't mean brain drain, but gaining the international experience following with returning to the home institution, recognition of results and finishing studies at home institution.
• Raising awareness of getting international experience through Erasmus+, focusing on companies and institutions to include international experience as an important employment criteria.
• Networking with similar associations by establishing contact and making partnerships focusing on Erasmus+ implementation, which could result in mutual applications to different grants.
What skills and qualities can you bring to this position?
As a Project Management enthusiast, I bring an international education background and expertise which can be well used within the Regional Board. I am team oriented with a good ability to adapt to multicultural environments. I am self-motivated with strong moral and ethical principles, and I consider myself to possess good interpersonal and communication skills within a multinational context, including diplomacy, discretion and confidentiality. I am able to perform and provide bilingual presentations and speeches in front of a large audience, moderating events and presentations. Through different European programs, associations and institutions, I got the opportunity to provide my perspective of European integration (both written and oral), strongly promoting further regional inclusion into the European family and adopting the EU's values, as well as providing critical opinions on different events through published articles and papers.
Describe yourself in 3 words!
Team-oriented, European, Happy