13/09/2021 | News
Andrija Tomic – Montenegro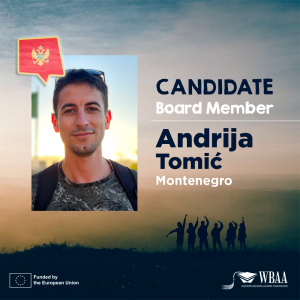 What is your motivation to apply for this position to become a Board member for the chapter Montenegro?
My main motivation for applying to the Regional Board position stems from my passion for further challenges, both in terms of professional and personal growth. Western Balkans Alumni Association is a prestigeous regional organization with internationally recognized activities. It offers a unique opportunity to fight for the values and advocate for the beliefs of united Europe through an established network of professionals. As an activist, expatriate, and proponent of freedom, justice, equality, and principles of Western societies, I am dedicated to sharing European values in Montenegro and the rest of the Western Balkans. I am highly motivated to voluntarily bring my knowledge and professional background to the WBAA decision-making and management body. I will do my utmost to be the best possible ambassador of the WBAA.
What are your plans for being a Board member? (What is your action plan for the period you are selected?)
Strengthening the Online and on-the-ground presence of WBAA.
Getting in touch with the base. Promoting values WBAA stands for through the national chapter. Enlarging the quantity and quality of our target group in Montenegro. Letting people know all the benefits and advantages of taking part.
Initiating new methods of communication between all bodies in the WBAA – from service providers, board members, team leaders, team members, to members.
Our base in Montenegro has alarmingly low participation in achieving the organization's goals. I would take a more active approach to encourage WBAA's Montenegro membership to take a more decisive position and apply for the projects.
What skills and qualities can you bring to this position?
I have volunteered at the Organization of Montenegrins Studying Abroad. I advanced through positions from the organization of events, to the position of Coordinator for Internal Affairs and Marketing. I have realized that working in a group of people is a complex system of different approaches and that a successful decision-making process consists of mutual understanding and concessions. I will apply my theoretical and practical knowledge to the management and organization. Firstly, I will engage in the strategy of document-driven approach, where the Board would engage in collecting and codifying the knowledge of the organization which could be accessed by any member. Secondly, I will bring creative thinking, continues improvement within a specific framework, and put focus on the organizational process that leads to membership satisfaction with the organization. Finally, I will initiate and help bring about a collective understanding and vision of what the organization can achieve.
Describe yourself in 3 words!
coherent, grateful, even-tempered