23/04/2021 | Open Calls
Announcing the 2021 Call for one new Board Member for WBAA Regional Board of Albania!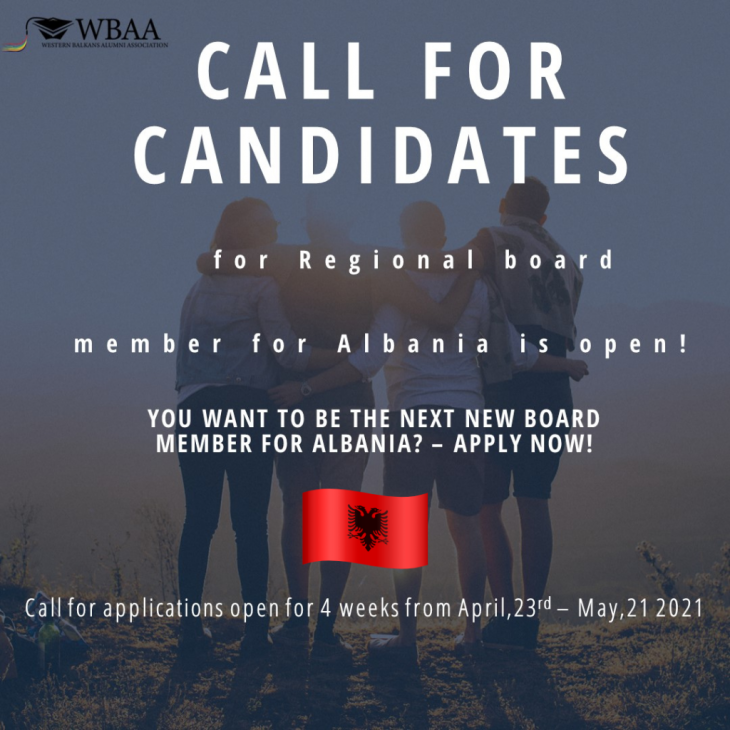 WBAA is looking for one new board member of Albania willing to volunteer in the WBAA Board. The WBAA Regional Board is the main management body of WBAA. You will be one out of twelve volunteers jointly working on the future success and essential development of WBAA. The Board is composed by two members each from the six Western Balkan countries. Currently one member from Albania has to be substituted.
What will be my role as a board member?
You will together with your eleven colleagues:
Represent WBAA in public and during events;
Manage strategic and other relevant activities of WBAA between the two General Assembly Meetings;
Ensure logistical support for strategic, operational and financial plans of WBAA;
Conclude and terminate agreements on collaboration with external partners of WBAA;
Present a report of the national/regional activities at every meeting of the Board;
Convene, prepare and facilitate the General Assembly Meeting; including preparing and presenting Annual Working Plans and reports of WBAA;
Mandate, guide and supervise WBAA Teams
Who can apply?
If you
are from Albania
are member of the WBAA network for at least the past 3 months (from February 2021 at the latest) then you are eligible to apply for the position in the WBAA Regional Board!
Why should I apply for the WBAA board?
Volunteering in the WBAA board is a great possibility to learn new skills, gain valuable experience, contribute to changes in Higher Education in the Western Balkans, promote regional cooperation and build up your personal network with high performing people from the Western Balkans region.
Which commitment is expected?
You fully identify with the mission and objectives of WBAA. You are expected to be committed for a two-year long position starting approx. in June 2021 (It is possible due to private or professional reasons to also have a shortened board membership). Candidates for the board should expect to devote up to max.10 hours/week to this position - This is an average value, some weeks you have less to do and some weeks are more intense with meetings, events etc. The position requires travel in the region on behalf of the organisation - in normal times three regional board meetings and one General Assembly are foreseen to take place in person each year. Due to Covid-19 all meetings right now are realised online until at least September 2021. As it is a volunteering position no renumeration will be offered, but all costs for physical meetings (accommodation, travel, food, promotion material etc.) will be paid for.
I am interested! What are the next steps?
Please fill in the form in the following link by 21 May 2021 (3pm - CEST)
https://forms.gle/qW1xkBs4Ruqzcn8PA
After the applications have been received and checked on eligibility and completeness
- the candidates will be presented in the WBAA online community and newsletter and social media, website.
- This presentation will be followed by a one week period which allows the candidates to promote themselves. Members have the possibility to ask the candidates questions about their person, profession and mission etc..
- The election in the online community will be opened after this campaigning period and is expected to take place between 05 June and 08 June 2021.
- If no second round of election is needed (as no candidate reached the absolute majority in the first round) the successful candidate will be notified most likely on 09 June 2021 and from that date s/he will be introduced to the WBAA network.
- Official mandate is expected to start around mid- June 2021.
You have more questions to the work of a board member?
So you can take part in our online Q&A session with our regional board member from Albania, Klaudjo Kavaja on May, 6th between 6:00pm-7:00pm. Register here for your participation: https://forms.gle/giUmfdcHPyRCmtPC7

If you have any questions, please do not hesitate to contact us at service@western-balkans-alumni.eu.
Your WBAA team
Service Provider, April,23rd 2021