19/01/2019 | Open Calls
Call for Application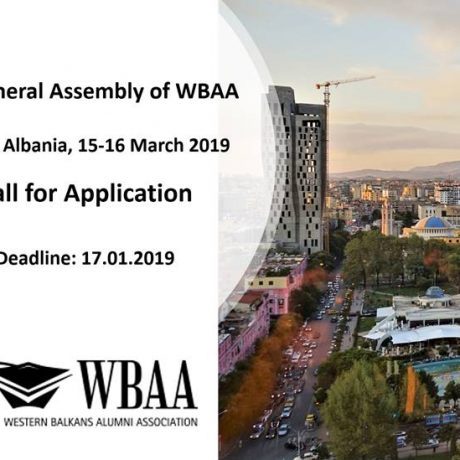 Western Balkans Alumni Association (WBAA)
1st General Assembly in Tirana, Albania, 15-16 March 2019
Dear Alumni,
With the support of the European Commission, the Western Balkans Alumni Association (WBAA) will be organising its 1st General Assembly in Tirana, Albania, on 15-16 March 2019. The event will gather over 130 students and alumni from WBAA. Moreover, higher education stakeholders, ministry representatives, EU officials and business representatives will be present.
Western Balkans Alumni Association is a non-profit and non-governmental organisation targeting students and alumni of the Western Balkans, namely Albania, Bosnia and Herzegovina, Kosovo, the former Yugoslav Republic of Macedonia, Montenegro and Serbia.
The aim of WBAA is to establish a strong union of alumni coming from the Western Balkans in order to provide a forum which enables the exchange experiences and best practices as well as empowers young people.
The WBAA General Assembly will be the yearly gathering of its members, from across the region. Over the span of two days, you will receive an update about the current state and progress of the Association, as well as engaging in various sessions and cultural activities which should help you make new connections and support WBAA in shaping its future development and related activities.
We also want to involve and empower our volunteering members to be, also after the General Assembly, an active part of the Association. One of the ways to get involved are our new WBAA teams, that will focus on different topics: Communication & IT, Projects, Research, Academic and Career Development or Internal Affairs. These teams will work virtually on concrete topics and projects and in addition, there will be opportunities for meetings with external partners and the own team.
Therefore, when filling out the application form, we kindly ask you to select also a team that fits to your interests and qualifications and to which you would like to contribute.
The link to the application form can be found here: https://goo.gl/forms/JeRBWxr2SnluqE1H3
The deadline for submitting your application is Thursday, 17.01.2019
Organized transport, accommodation and food as well as participation in cultural activities will be fully covered by the European Commission.
We are looking forward to receiving your applications!
WBAA
Western Balkans Alumni Association