24/10/2022 | News
Call for Vice Head for Advocacy Higher Education Team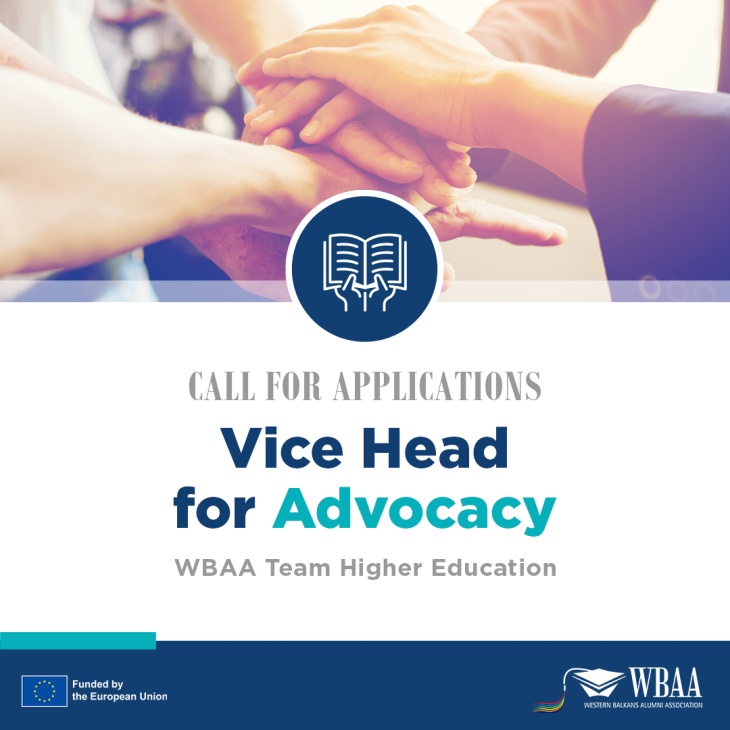 We are looking for a new Vice Head for Advocacy for the WBAA Team Higher Education Reform & Equal access to higher education!
If you are a member of the Higher Education Team, this is your chance to take up an important position within the network.
You can find the application form for this position in the Online Community. The deadline for applications is 7 November at 12 noon CET.
We would like to thank Marijan Tustonja for his work for the WBAA Team, who until now held the position of Vice Head for Advocacy!
The main tasks of the Vice Head for Advocacy are:
To react (through initiatives towards governments or state institutions, press releases, emails to members to encourage joint actions) on everyday challenges and novelties (e.g. new draft laws, new policies, etc.) in the domain of their team and thus promote WBAA as an active participant in public affairs of WB6;
To communicate with other Vice-Heads for Advocacy from other teams.
The duration of the mandate is two years with the possibility of renewal. The team leadership will organise a meeting with the team members at least every two months, the team leadership will meet once per month.
 
The aims of the WBAA Team Higher Education Reform & Equal access to higher education are: 
to align higher education systems in the WB6  
to explore the status quo and opportunities for different reform initiatives, e.g. adapting the curriculum to labour market requirements 
to lobby for the alignment of higher education systems in the WB6 with EU standards and the strategic frameworks of the EU, the UN and the Council of Europe and finally to advocate for closer cooperation between higher education institutions in the Western Balkans.  
Furthermore, the focus is on: 
Student rights in WB6: benefits, duties, tasks and responsibilities of students in the region; mapping needs and addressing specific issues through advocacy and publicity campaigns; engaging WBAA members, e.g., making awareness raising videos; advocating for the rights of students who seek a balance between education and work.
Social inclusion in higher education: focusing on educational equity, equal opportunities for and inclusion of marginalised groups and rights of underprivileged groups in terms of their access to quality education; promotion of the successful social inclusion component of the Erasmus+ Programme. 
It is planned that the promoton of the candidates will run from 8-14 November and the elections will then take place from 15-21 November.
 
Please note that the voting will take place in the Online Community. There is a group for the Higher Education Team that you should join if you want to become a member of the team and cast your vote in the election. Please log into the Online Community and submit a join request to the following group:
https://community.western-balkans-alumni.eu/page/view-group-profile?id=69 
If you have any questions, please feel free to contact service@western-balkans-alumni.eu.
We look forward to your application!
Your WBAA team
Laura Jarmatz on behalf of the Service Provider
Germany, Cologne, 18 October 2022