16/03/2022 | News
Call for Vice Head of Communication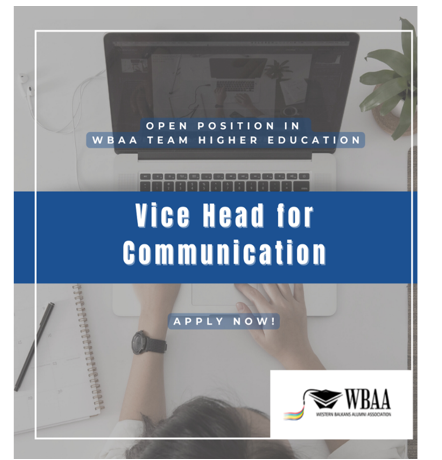 Team Higher education reform & Equal access to Higher education is looking for a Vice Head for Communication
This call goes out to all interested persons who are willing to work for better opportunities for higher education in the Western Balkans. The task of this person is to seek and disseminate relevant information through WBAA social networks, writing the WBAA newsletter, promotion of the teams' initiatives and activities, promotion of advocacy actions etc. The Vice Head of Communication will be part of the Communication Community working together as a team on these tasks.
The person chosen for this position has the opportunity to become a responsible person in the higher education team and together with the Head and the Vice Head for Advocacy to make a change in future activities of WBAA. Why this position? Communication today plays a crucial role in the exchange of information and when a message is sent correctly, individuals can function better. Being a Vice Head for Communication is important and provides an opportunity to make our voice heard. In collaboration with other team members, you will have a crucial role to play in creating communication tasks. The mandate lasts one year.
The Higher Education team aims to maintain several important things this year: to apply for a project to empower students with disabilities in higher education; hold a panel discussion on the International Day of Persons with Disabilities (3rd December), Youth skills day (15th June), International education week in November etc.
Want to be a part of this story? Want to do something more? Do you want to leave a mark? Then this position is just for you!
Please apply if you enjoy writing texts and want to gain experience in the field of public relations. You can find more information about the team and its goals on the website. Please send your application including your CV, your previous experience with WBAA and your motivation to apply for this position to the following e-mail address higher-education@western-balkans-alumni.eu.
We look forward to your application!
Hatidza Jahic and Marijan Tustonja
16.03.2022