13/07/2023 | News
Candidate for the Election for the National Representative of the WBAA Bosnia & Herzegovinian Chapter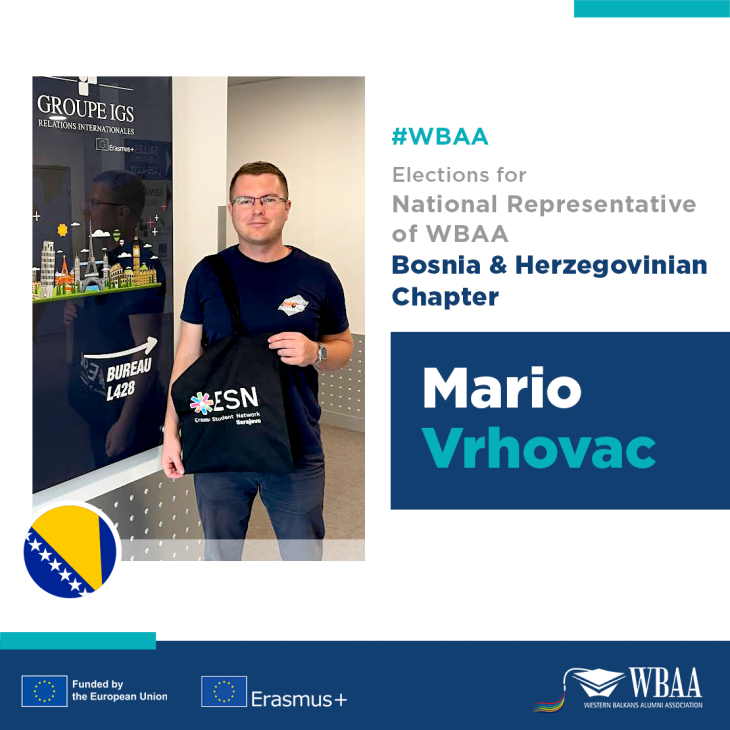 Meet the candidate Mario Vrhovac campaigning for the open position of board member of the Bosnia & Herzegovinian chapter!
My engagement with WBAA so far:
Beside the project last year 2022 that we held in Sarajevo, Bjelašnica mountain I have been also a co organizer at the 2019 WBAA Run4Erasmus project.
What is your motivation to apply for this position to become a board member for the Bosnia & Herzegovinian chapter?
The WBAA and also other organization where a little bit out of the display to the public during and after Covid-19 hit us all. My goal is to make WBAA a present organization to the public that combines higher education and labour market.
What are your plans for being a board member? (What is your plan of action for the period you are selected?)
WBAA should be the binding stone between the school and future employer and make a smooth transition to it. WAA should provide a mentorship program between younger and older members to help the younger to find work and settle down.
What skills and qualities can you bring to this position?
Organization, management and leadership skills since I participated to a WBAA project regarding team building and leadership skills and after that I participated in an ESAA 4 month long education with the same topic.
Describe yourself in three words.
Motivated, ambitious, the boss.
Please note that you must be a member of the Bosnia and Herzegovinian chapter to cast your vote in the upcoming election in the Online Community portal. If you have any questions, please feel free to contact service@western-balkans-alumni.eu
Service Provider
Cologne, July 11