10/12/2020 | News
#ErasmusDays2020: Coverage and Impact Report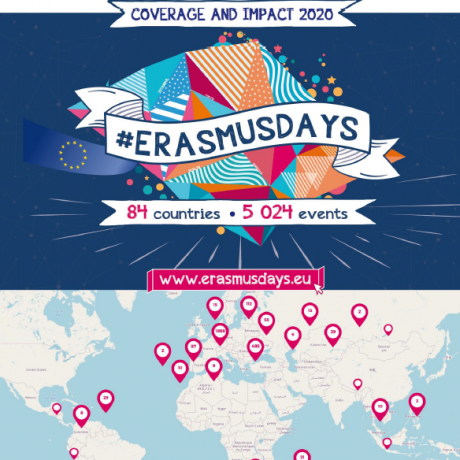 The ErasmusDays2020 Coverage and Impact report outlines some of the 5 024 inspiring virtual and/or physical initiatives organised during the Erasmus Days 2020 on 15th, 16th, and 17th of October 2020 in 84 different countries all over the world.
"Despite the Covid-19 pandemic affecting people's everyday life around the world, Erasmus+ players all over the world coped with the uncertain sanitary situation and proposed challenging alternatives to citizens for them to keep studying and training abroad. On the 15th, 16th, and 17th of October 2020, 5 024 physical, blended and digital events were held worldwide to celebrate and promote locally Erasmus+ opportunities and mobility experiences."
And this is how during this period of time the Western Balkan countries Albania, Bosnia and Herzegovina, Kosovo*, and Montenegro as Erasmus+ partner countries came into action and initiated 62 Erasmus+ events and with that were highly involved in the #ErasmusDays 2020. The events were of great success thanks to universities and higher education institutes, NGOs, National Erasmus+ Offices, EU info centres, youth centres, associations, embassies, National Secretariats and EU Delegations of the Western Balkan region engaging in the #ErasmusDays 2020 and organising various events to make an impact.
Albania successfully hosted 24 events such as info sessions on the Erasmus+ programme in Albania and a Facebook livestream to share success stories of Erasmus+ programmes. Bosnia and Herzegovina hosted 14 including events focusing on topics such as bringing closer the opportunities that mobility programmes offer to young people. In Kosovo* seven events fruitfully took place - among others they hosted an event promoting Capacity Building projects the Public University Kadri Zekain Gjilan participated in and a workshop by youth workers on gender topics. Last but not least, Montenegro came into action as a host to 17 events in the frame of the #ErasmusDays; launching an Instagram campaign to challenge participants on Erasmus+ related topics and the streaming of the Participation opportunities of youth with disabilities in the Erasmus+ programme webinar were only two of them.
We are happy to report on how actively and successfully the Western Balkan was involved during these #ErasmusDays 2020 and would like to share with you the "Coverage and Impact Report" for more information about the events that took place in the above mentioned Western Balkan countries (see page 32 and 33 of the full report) as well as the rest of the world hosting events during the #ErasmusDays this year.
*This designation is without prejudice to positions on status, and is in line with UNSCR 1244/1999 and the ICJ opinion on the Kosovo declaration of independence.
On behalf of the Service Provider Mrs Kimberly Schilitz
Cologne, Germany 10 Dec 2020