15/08/2022 | Projects
Four online workshops were held within the project SkillUp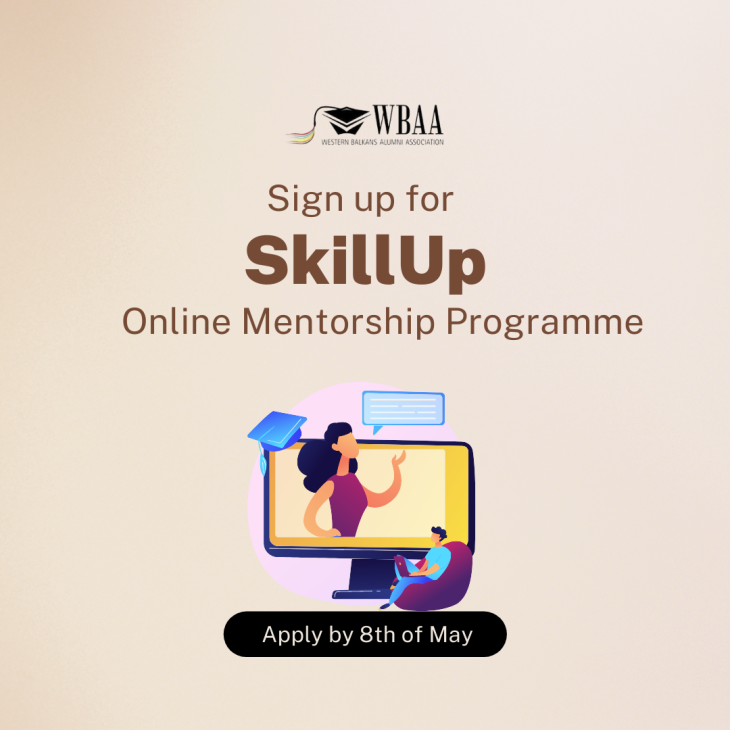 These online workshops were organised by the project coordinator Nebojsa Ratkovic in May 2022 as a part of mentorship program SkillUp. It provided participants with the information on Erasmus+ mobility project, entrepreneurship, projects, CV and academic letter writing!
SkillUp is a unique online mentoring program that provides prospective Erasmus+ candidates and current Erasmus+ students with the opportunity to be mentored by experienced alumni and members of the WBAA community who shared experience and knowledge to foster mentees' insights. These insights included the skills to write and engage in projects, to create better self representation and to nurture entrepreneurship spirit among young ones. Throughout this program and four provided workshops, participants also had the chance to connect with three experts, leaders from different professions. They helped participants to improve practical skills and knowledge, with the goal to increase their chances of participating in any of the Erasmus+ mobility programs or help participants with their current stay at one of the universities abroad. The project is based on the concept of mentoring, and was aimed to build mutual support for participants, through sharing knowledge, experiences, strengthening solidarity, promoting good role models, networking and empowering them. The project was in line with the European Year of Youth 2022 values since it supported young people to become active citizens, it supported their personal, social and professional development and it is going to inspire them for the positive change which is especially important during the pandemic.
The project was mostly focused on the following two goals:
Involving and motivating young people into programmes, projects, workshops, panel discussions and other activities focused on raising awareness of the Western Balkans students' needs
Building up the membership of the WBAA and expanding with new individuals and partners.
To ensure the sustainability of the project a network was created with participants who will actively share experiences in the future. Strong contacts established during the workshops will result in a constant exchange of experiences that will be of multiple benefits and will enable the connection of a large number of active and socially responsible people from the region. They will have the opportunity, through this interaction, to not only learn from each other, but also about each other.
15.08.2022
Nebojša Ratković