09/11/2020 | News
Interview with the new Regional Board member Elisabeta Rada - may we introduce!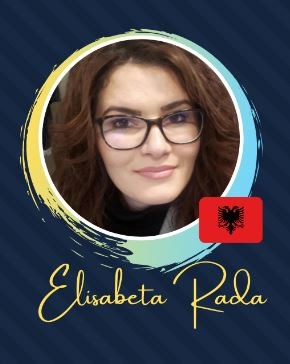 Dear Elisabeta, in September 2020 you have been elected to become one of the twelve members of the WBAA Regional Board. Congratulations. You will be part of the Regional Board for the next two years. We are eager to learn more about you, your motivation, and your ideas towards WBAA.
Can you please write a short bio (3-4 sentences)?
Currently, I work as an Educational Consultant, assisting Albanian students, who plan to study abroad. In 2016, I graduated with a bachelor's degree in Political Sciences followed by a master's degree in Regional Political Studies in 2018 – both at the University of Tirana.
From February 2017 until February 2018, I attended the University Alexandru Ioan Cuza of Iasi in Romania for two semesters in the framework of Erasmus + exchange mobility.
My academical background in Political Sciences and Regional Studies and the engagement in activities such as volunteering, trainings, workshops and research enabled me to contribute to my region and to get to know it better, which remains my main passion.
I am WBAA member since October 2019 and in summer 2020 I got elected as board member for the Albanian chapter.
What is your contribution to WBAA activities so far and in which section are you more interested in developing further? (Commitment to the WBAA teams)
Since I joined the association, I have been part of several events and meetings organised by WBAA and I would like to especially mention the series of WBAA Friday evening talks during quarantine, which was a great way to engage and share our experiences and stay connected in a safe way. Since May 2020, I am also involved in the WBAA Projects team.
What is your best WBAA memory?
The training I was part of last November in Pancevo, Serbia.
What do you think WBAA's focus should be in the next two years?
Being more present for people who would like to contribute or join the WBAA community and improving the collaboration between regional countries through different trainings or exchange 'projects' which gives engaged people the chance to face new perspectives, to explore their neighbourhood and increase their intercultural interaction skills.
How can the WBAA board foster regional cooperation?
Regional cooperation can be fostered by the WBAA board through projects with a regional scope and awareness campaigns on the existence of the WBAA community and its goals, as an environment, where people are welcomed to join and contribute as a citizen of the region.
Which role should WBAA have in EU accession policy?
Taking in consideration that the majority of the WBAA members have lived and studied in EU countries while the rest has been part of several trainings, cultural exchange and workshops, they all had the chance to experience another perspective from their home countries and are able to make comparisons. Moreover, they have a cleared panorama of what is done and what needs to be done and in what way -so the contribution of WBAA may be very productive and at the same time to be considered as a necessary tool in this framework.
Please write a sentence which defines your relation to WBAA, what is WBAA for you?
WBAA is a safe environment where I always have the chance to meet and get to know people with great personalities, perspectives, and potential. Being part of WBAA is an experience of exploring the region on another level. Hopefully, more people will join in the future with the motivation of growing personally while contributing to our region.
Your quote:

"Intercultural interaction and communication is a safe way toward cooperation and improvement of our region."
Thank you very much for taking the time for this interview!
Edited by Service Provider