13/10/2021 | News
Mila Lukić – Serbia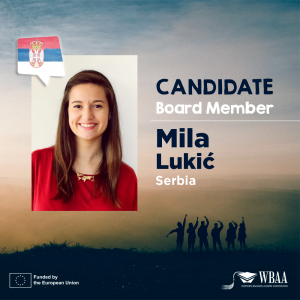 What is your motivation to apply for this position to become a Board member for the chapter Serbia?
My primary reason lies in the passion I nurture for regional youth connectivity. Ever since I partook in RYCO establishment in 2016, I have been involved in regional initiatives supporting youth activism and reforms. Moreover, I am passionate about developing and advocating for reforms that (1) bring about systemic changes and improve young people's position and life standard, (2) support students and alumni in advancing their education and careers in the Western Balkans, and (3) promote Europe-wide and regional youth mobility and connectedness. Secondly, my motivation lies in the true belief in WBAA's potential. As a still young association, I think that WBAA has a lot to offer. Although right now it might feel like WBAA is taking a break or is a bit asleep, I truly believe it can generate the power to mobilize a lot of young people in the WB6 region giving them a chance to voice their concerns and nominate ideas. I believe deep down that WBAA can be much more than our projects - WBAA should be about its members and their mutual connections.
What are your plans for being a Board member? (What is your action plan for the period you are selected?)
As one of the initiators of the WBAA Teams 2.0 concept, I want to continue following its development and implementation. I think the key to an increased membership engagement lies in the activities that WBAA has to offer, and with WBAA Teams 2.0 we offer a much better model for that. Another key ingredient to this initiative's success is the amount of dedication of the Regional Board members who closely follow and support these teams. I plan on being one of those members. Another important segment of my mandate would focus on reaching out to national and regional stakeholders, making sure WBAA is better recognized and more visible among public institutions and students/alumni. This means enhancing cooperation with those who work with youth and have programs related to higher education reform and students/youth mobility, such as the EU delegations, Erasmus+ national agencies/contact points, higher education institutions. Lastly, we need to bridge the existing gap in communicating with WBAA members. We might be launching our new Community Platform on October 4th but digital tools have no true use unless we all do our best to promote them and communicate them via more traditional means. Therefore, I think that increasing WBAA's presence on the Chapter level will be crucial in mobilizing new members and making use of the new Community Platform. With increased number of registered and active members, a pool of opportunities is offered to engage with them on regular basis.
What skills and qualities can you bring to this position?
Firstly, I bring broad experience with WBAA thus far, so I am familiar with its internal regulations, mechanisms, practices and challenges. Secondly, I bring dedication to work on those challenges for the overall goal of WBAA's development. I am highly motivated to motivate others so that we can work together to bring prosperity to this association. On a more broader note, I bring extensive experience in working with public, private and civic stakeholders over the past couple of years (different NGOs, ministries, regional organizations, EU institutions, others) as well as experience in working with young people, activists, students, etc. (through projects). I think I would make an invaluable part of the Regional Board that only together can improve WBAA for their members.
Describe yourself in 3 words!
Dedicated, mindful, ambitious