31/05/2023 | News
Physics Educators for Better Science Education in the Western Balkans Symposium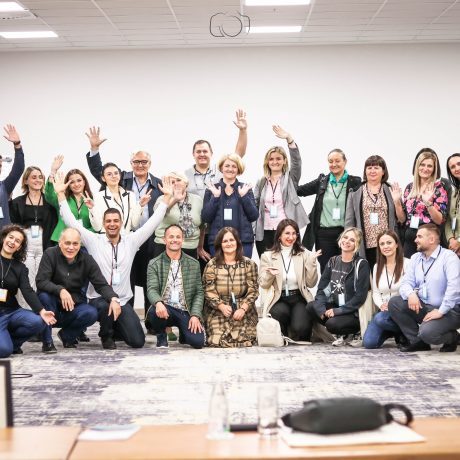 The story of our project began in March 2022. As a new Ph.D. student in Physics Education, I was dreaming of a project that would unite the Western Balkan region in a field that is my passion and work. The project got accepted and pre-approved in July and then elaborated on in August. In September 2022 we started the implementation, with a Western Balkan Symposium: Physics Educators for Better Science Education being held from 4th to 6th November in Sarajevo, Hotel Holiday. Both periods before and after the main event have been stressful but ultimately rewarding due to the all-positive feedback and subsequent new opportunities that came our way.
The results of large-scale educational research like PISA2018 and TIMSS showed how education and specifically science education is in desperate need of attention in the Western Balkans. Specifically, in PISA2018 none of the countries of Western Balkan achieved the minimum OECDE average level of scientific literacy. The quality of a country's education can have far-reaching consequences on all aspects of its society. That is precisely why a better understanding of Physics Education from the perspective of its expert community, can light the way to the solution of the problems all the Western Balkan countries face in this regard.
We aimed to empower Physics educators of Western Balkan in their role of increasing the scientific literacy of their students. Through the Western Balkan Symposium: Physics Educators for Better Science Education (PEBSE), high-school teachers, University professors, regional experts, and students will get a forum to have their opinions heard, a community of people all aware of the same problem and passionate about resolving it. During the Physics Educators for Better Science Education (PEBSE), participants had an opportunity to hear great lectures, participate in lively discussions and increase their networking skills. Not only does our project support internationalization and research opportunities for Higher Education staff in the region but it also promotes WBAA by showcasing what their alumni, empowered through Erasmus+ projects, are capable of doing – organizing an event that can have far-reaching consequences on the education system in the region.
In a 2-day event in early November 2022, we gathered 12 high school Physics teachers (2 representatives per country of Western Balkans) and 12 higher education Physics educators (2 representatives per country of Western Balkans) in Sarajevo, Bosnia, and Herzegovina and offered them a series of lectures, workshops, discussions, and networking opportunities.
With experts' lectures (from Croatia, Bosnia, and Turkey), team-building exercises, and awareness-raising activities we (the organizers) set on a journey to make a network of people who are truly interested in raising awareness about the importance of scientific literacy on the quality of life.
However, as much as the story of PEBSE is about the development of Physics education in the Western Balkans region it is also a story of the success of Erasmus, because haven't it been for my exchange, I would have never dared to dream of organizing such symposium.
One thing that unites us all here in WBAA, is the fact that we benefited from Erasmus and other EU Commission-supported projects. And I am sure that if you ask any of them how life-altering their experience was on the exchange they will remember a bold line in their life's timeline, after which everything was different. The knowledge of other cultures, a sense of true independence, and a feeling of equality and dignity with the world, all bring about a certain level of confidence that can't be quite matched with anything before.
The positive impact of the project on Western Balkan countries/regions is contained in the knowledge transfer from experts and Erasmus alumni to participants and the larger community. The way it contributed to WBAA goals is by promoting intercultural dialogue, learning and mobility experiences, exchange and sharing of knowledge, and strengthening the links between higher education institutions. Lastly, it could potentially affect educational policy in these countries by gathering good arguments and solutions for improving scientific literacy.
This all would have been impossible without my teammates. 4 of us, all from Bosnia and Herzegovina but now, greatly due to Erasmus, living and thriving in other countries, giving back to our homeland, gathered in Sarajevo, to organize PEBSE. Amina from Paris, Semir from Frankfurt, Semra from Istanbul, and Murisa from Novi Travnik.
As a result of this project, various networks were made, within WBAA and outside. New opportunities for upcoming projects and collaborations were set in motion. Academics and Physics teachers met with each other and we were able to open the dialogue of that which ails us all, rather than that which differentiates us. The power of our region – the Western Balkans, truly lies in the compound thinking power of all its individual countries' people and experts, and I believe it can truly take us to a better, kinder, and more prosperous future.
Short promotional video:
PEBSE Final video:
PEBSE website:
Semra Sikira
Sarajevo, Bosnia and Herzegovina
20th of May, 2023