07/02/2020 | Events
Promoting Erasmus+ and WBAA in Montenegro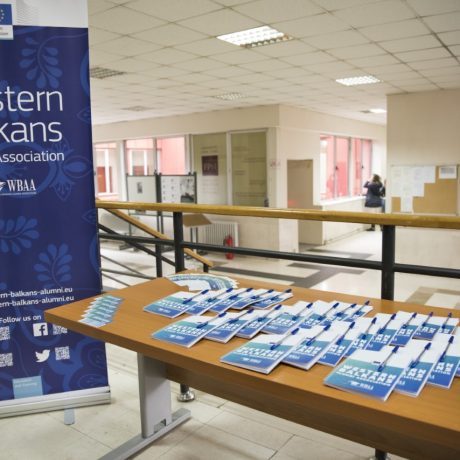 In November 2019, National Representatives of WBAA in Montenegro, Marina Tomovic and Andjela Micanovic, have organised successful panel discussions together with WBAA members in Montenegro which promoted Erasmus+, other mobility schemes and WBAA to students of Montenegrin universities
Panel discussion organised by National Representatives of WBAA in Montenegro at the Faculty of Political Science of University of Montenegro gathered WBAA members and university students with the purpose of promoting mobility of young people through peer to peer approach and through direct promotion by those who already have mobility experience. WBAA national representatives, Marina Tomovic and Andjela Micanovic, together with WBAA members Ljubica Kalezic, Djordije Strugar and Bojana Popovic informed interested students about personal, academic and professional benefits of mobility and promoted Erasmus+ and other mobility schemes. Each of the panellists gave their own testimony of their experience of studying abroad and presented their mobility experiences in more detail, explained the steps of applying and getting the mobility grant, practical information about traveling abroad, finding accommodation, pros and cons of studying on foreign Higher Education Institutions etc. Also, WBAA was promoted as a great opportunity to stay involved and contribute after the mobility period abroad.
The whole atmosphere of the panel was very positive, as peers communicated with peers in a friendly way which inspired a lot of students to ask questions about different aspects of Erasmus+ and other schemes. After the event, students and panellists have been provided with catering and drinks. In this relaxed environment a lot of students were approaching WBAA members to inquire about things that were left unanswered or questions that have popped up in the meantime.
Staff of the Faculty of Political Science of University of Montenegro was very satisfied with the outcome of the panel and with demonstrated interest of students who stayed after classes on a Friday afternoon to take part in the event. They have also expressed the interest to host more of such events in their premises and to collaborate with WBAA in Montenegro so they could form more partnerships in future WBAA projects.
February,7th 2020 Anja Stanisavljević