02/05/2022 | Events
Sign up for "SkillUp" training!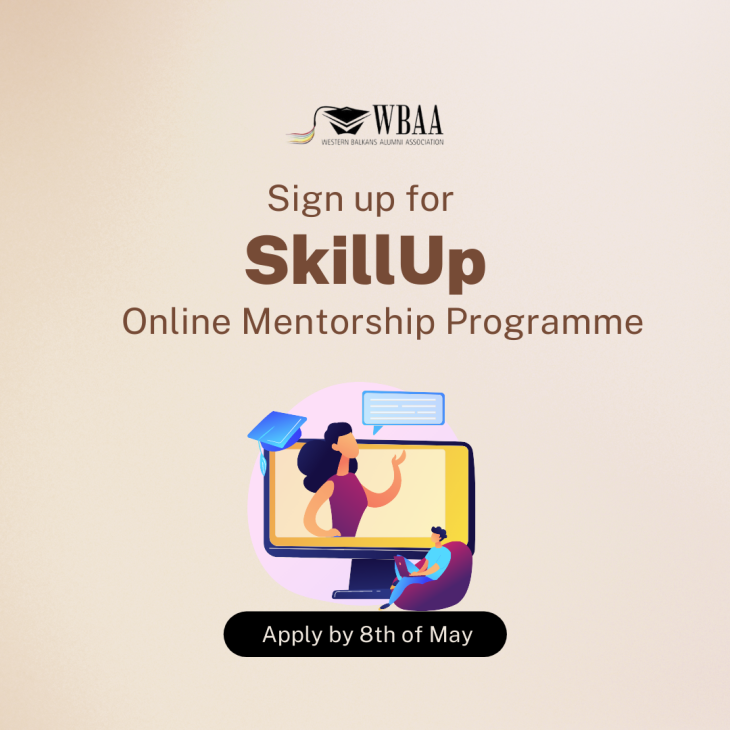 Applications for the "SkillUp" training are now open! The training consists of four two-hour online workshops. The first will focus on experience in applying for Erasmus Mundus scholarships, the second on writing a resume and cover letter, the third on writing projects, and the fourth on entrepreneurship. The workshops will be held in Serbian, on May 12, 13, 16 and 17, 2022, from 6 to 8 p.m. Applications last until the places are filled, and no later than May 8, 23:59.
SkillUp Training is a unique online mentoring program that provides potential Erasmus+ candidates and current Erasmus+ students with the opportunity to learn from experienced alumni and members of the WBAA community. Within the training, the mentors will work with the students on the project development writing skills and engagement, on creating better self representation and nurturing entrepreneurship spirit among young ones. Through this program and four planned workshops, participants will have the opportunity to connect with three experts, leaders from different professions. They will help participants to improve their practical skills and knowledge, with the aim of increasing their chances of participating in any of the Erasmus+ mobility programs, or they will help participants in their current stay at one of the universities abroad.
If you are a young person from Serbia, BiH, Croatia or Montenegro, and you would like to improve your skills and work on your own development, sign up for this online training! The training will be held in Serbian and anyone who understands the language can apply.
The training will be led by highly qualified professional trainers with proven experience in educational projects and online education.
Application procedure: You can apply by filling out this simple questionnaire. The maximum number of participants is 20.
Deadline for applications: until the place is filled, and no later than May 8, 23:59.
Workshop dates: 12, 13, 16 and 17 May 2022, from 6 pm to 8 pm
Project coordinator: Nebojša Ratković, +381693438220, nebojsaratkovic@gmail.com
02 May 2022
Nebojša Ratković