01/07/2022 | Projects
Skills and individual values training for alumni and future alumni students involved in the European projects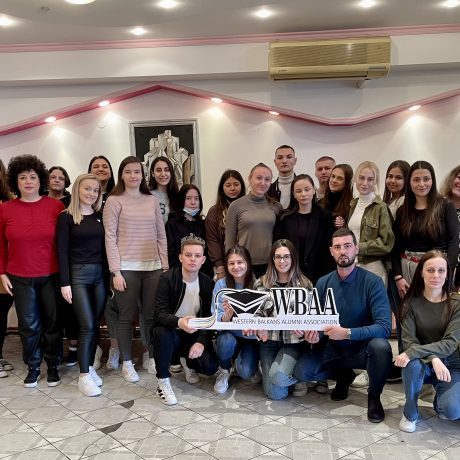 40 motivated alumni and future alumni and young activists from Bitola and Stip took an active part in the training. The overall goal of the project was to develop entrepreneurial skills and individual values for alumni and future alumni students involved in European projects. The training was realized from March 3, 2022, to April 3, 2022, in Stip, R. North Macedonia.
The round table was attended by another 20 participants and relevant stakeholders.
During the 4-day training, 40 participants had the opportunity to work on the development of skills and individual values ​​through the implementation of 5 modules for personal management, entrepreneurial skills, communication skills, leadership skills, and teamwork and individual values.
Skills are at the heart of the European agenda. It emphasizes that skills are a path to employability and prosperity, a catalyst in job creation and growth.
Skills development today is considered key to productive employment. Hence, the importance of skills development means increased productivity, economic growth, and development. The ever-changing changes in highly developed and productive sectors require a workforce with "well-developed skills" and/or "knowledge workers". To this end, the project included the realization of specific goals related to strengthening the capacity of personal development of alumni and future alumni involved in European projects through education, development of entrepreneurial skills and individual values, appropriate professional behavior in the workplace, developing communication skills and networking with the WBAA and future WBAA alumni for future cooperation and strengthening the WBAA community.
The project idea deals with contemporary and current issues on the need and importance of personal and professional development of young people through active engagement in various European projects.
Alumni and prospective students as bearers of small social changes develop values ​​that profile them as young leaders and builders of their future and the future of the community in which they live.
Successful alumni student and future alumni student who shows significant positive changes and improvements in terms of better understanding of their capacities and acting following them, setting realistic goals related to the profession and future profession, better time management, teamwork, and strengthened leadership and communication skills, etc.
Additionally, the participants had the opportunity to hear about the opportunities of the WBAA community, to enjoy the city of Stip, as well as to connect with each other through their interaction and communication.
Kiril Jordanov, 01 July 2022
edited by the service provider