13/04/2023 | News
Sustainable Regional Development in the Western Balkans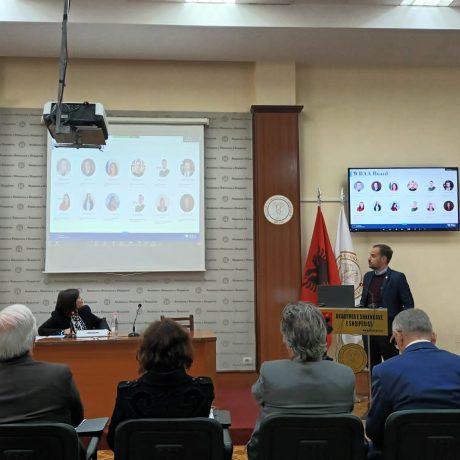 A high-level conference entitled "Sustainable Regional Development in the Western Balkans" for the first time was held on March 31, 2023 at the Academy of Science of Albania in Tirana, organized by the European Regional Science Association together with the Regional Science Association International.
The main purpose of this first workshop was to mobilize and nurture talents across the Western Balkans, publish a special issue of the journal on Sustainable Regional Development and European Integration in Western Balkans and support Regional Science Association International in the creation of regional science sections in Western Balkans.
In this high level event, WBAA Regional Board Representative, Dr. Milan Stojanovic, was invited based on both his professional expertise and an impact in the Western Balkan region made by his engagement in WBAA.
With the topic "Western Balkans Alumni Association Building Regional Bridges for International Cooperation" Dr. Milan Stojanovic was honored to be one of the keynote speakers in the opening session of the conference together with Academician Prof. Dr. Skender Gjinushi, President of the Academy of Sciences of Albania, HE Elsa Hastad, Swedish Ambassador to the Republic of Albania, Mrs. Romina Kuko, Deputy Minister of Internal Affairs, Mrs. Elira Demiraj, General Director of Economic Development and Employment, Ministry of Finance and Economy, Prof. Dr. Hans Westlund, President Regional Science Association International and a professor at the KTH Royal Institute of Technology, Sweden, Prof. Dr. Peter Nijkamp, University of Amsterdam, Netherlands and Prof. Dr. Riccardo Crescenzi, London School of Economics/Harvard Kennedy School of Government. Based on his research and the abstract he previously submitted (the abstract has been reviewed and accepted by the international organizing committee), in his second presentation, Dr. Milan Stojanovic presented his vision on Development Potential of Rural and Peripheral Areas in the Western Balkans and the Role of the European Union in that Process.
Four other WBAA members also attended the event, Klejda Hundhra Harasani, Shukrije Rama, Renata Petrevska Nechkoska and Jolta Kacani.
Head of WBAA Research team, Prof. Dr. Renata Petrevska Nechkoska, presented the central results of the WBAA Tracer Study and a book chapter "Western Balkans Alumni Association as Positive Deviance" while Leader of WBAA Transition from Higher Education to Labour Market and Professional Life team, Dr. Jolta Kacani was our host in Tirana and was the most deserving one for holding this event, great hospitality and outstanding event organization.
Milan Stojanovic
edited by the Service Provider
Serbia, Novi Sad, 04.04.2023