03/12/2021 | News
The 4th call for WBAA Projects 2021 is open!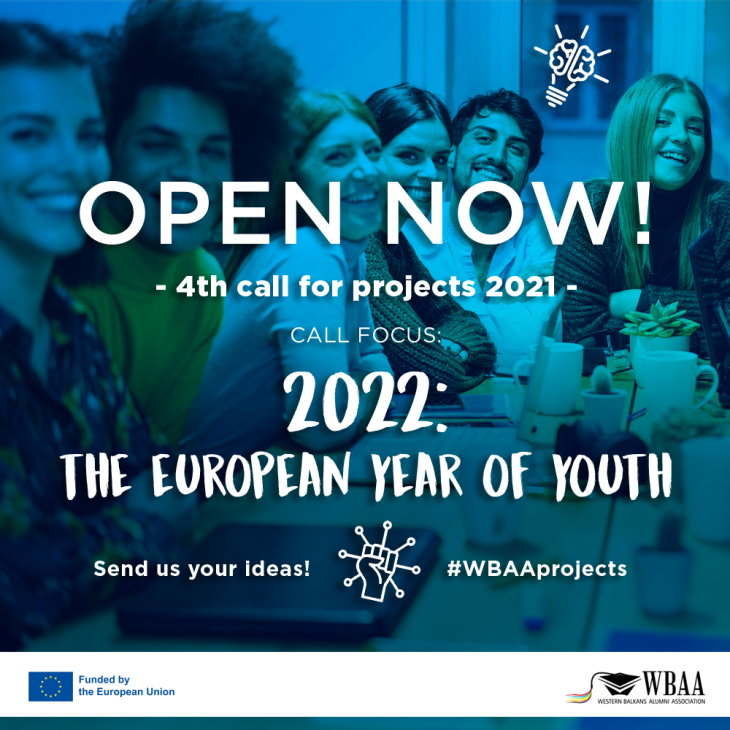 We are pleased to announce the 4th call for WBAA Projects in 2021.
In this occasion, the project proposals under this call must be placed in the context of the European Year of Youth 2022, which was announced by European Commission President Ursula von der Leyen in September 2021, and specifically contribute to a Global Erasmus+ alumni mentoring scheme.
The global dimension of Erasmus+ will be an integral part of the European Year of Youth, reaching out to young people and cooperating with partner countries, organisations, and alumni networks worldwide.
With the re-launch of international learning mobility in 2022, young people will be put in the spotlight for global mentoring, and Erasmus+ alumni are ideally placed to play an active role in this context.
Erasmus+ alumni should become mentors for Erasmus+ prospective participants. They should promote Erasmus+ by offering testimonies of their own mobility experiences and providing information about destinations, courses and institutions.
In resume, the project ideas under this call must focus on awareness-raising, mentoring and information provision on Erasmus+ by alumni to prospective participants.
For more information about European Year of Youth 2022 please see the press release.
For more information about Erasmus+ please check here.
The call will be open for submissions until 10 January 2022, 12:00 CET. After that, no more project proposals will be accepted.
If you would like to submit a project for this call, please log in to the WBAA community portal, there you will find the link to the application form. All further information is also available in the community portal.
This is the first of three phases of WBAA Projects, the competition phase. If you are a member of WBAA, you can submit your project that meets one or more of the objectives of the WBAA clusters:
Cluster 1: Events for Erasmus+ and WBAA promotion
• Cluster 2: Training sessions for volunteers and WBAA activists (capacity building, career development, project or entrepreneurship skills, etc.)
• Cluster 3: Projects promoting research in Higher Education
• Cluster 4: Projects promoting modernisation and internationalisation of Higher Education in the region
• Cluster 5: Other outreach projects providing knowledge exchange and networking opportunities
All the ideas will be evaluated according to the criteria of content, feasibility, increasing networks, outreach, and flexibility. For more details on the process check out the WBAA Projects page.
You will learn about the accepted projects on 15 February 2021.
If a project is accepted, it will go to the elaboration phase. In this second phase, details are discussed, and the project is further elaborated. The technical support is subject to undersigned implementation agreement between the SP and the project coordinator and the final approval by the EC. If your project is accepted in this last step, it will enter the third phase at the beginning of next year. The implementation phase will run from April to September 2022.
This is your chance to implement and shape your own individual WBAA project in your region. And if your idea includes Erasmus+ alumni mentoring potential participants, this is your opportunity to get support to make it happen!
We are very much looking forward to your project submissions!
If you have any questions, please do not hesitate to contact us via service@western-balkans-alumni.eu !
Your WBAA Team
By Service Provider
Cologne, 3 December 2021