16/05/2022 | News
The elections for the new Board members in 4 chapters have started – cast your vote!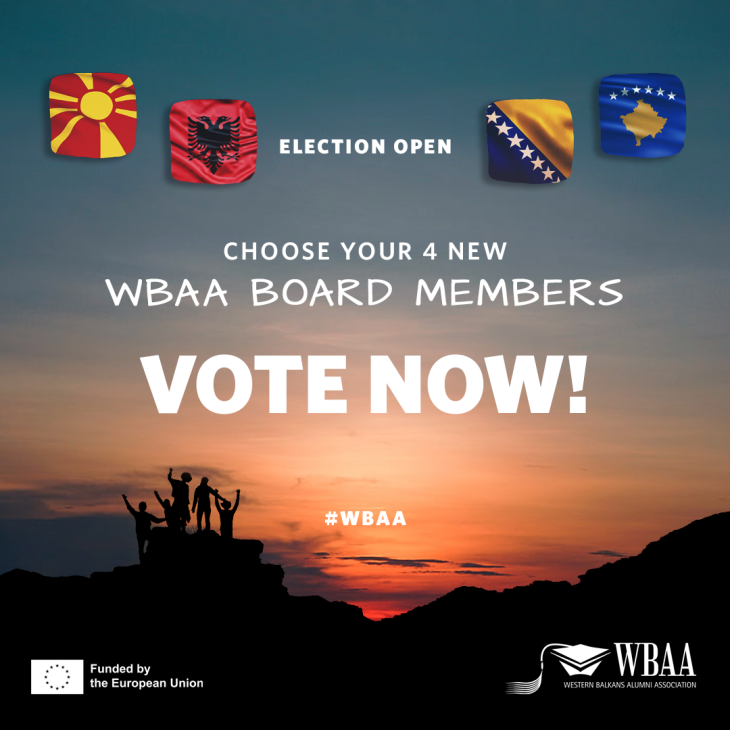 This goes to all WBAA members from Albania, Bosnia & Herzegovina, Kosovo*, and North Macedonia who have been registered in the WBAA online community for at least six months:
You have the opportunity to vote for your new National Representatives for the WBAA Regional Board between today, Monday 16 May at 12pm and Monday 23 May at 12pm CEST.
Please log into the WBAA Online Community and go to the Elections section: https://community.western-balkans-alumni.eu/
If you have problems logging into the online community or casting your vote for the election, please contact it-support@western-balkans-alumni.eu.
Please also note the following information on the elections:
Everyone has only one vote
Members from Albania can cast their vote for either Rregjina Gokaj, Gilda Hoxha or Altin Guberi
Members from Bosnia and Herzegovina can cast their vote for either Jasmina Salihović Hodžić or Emir Hrustanovic
Members from Kosovo* can cast their vote for either Anesa Colakovic, Shukrije Rama or Altin Gashi
For North Macedonia Dejan Galovski is the only candidate. Members can either give their vote to Dejan or vote on Abstain
Please take the opportunity to vote for your new Board members. We are looking forward to the result!
Laura Jarmatz on behalf of the Service Provider
16 May 2022, Cologne, Germany
*This designation is without prejudice to positions on status, and is in line with UNSCR 1244/1999 and the ICJ opinion on the Kosovo declaration of independence.