17/12/2020 | Projects
The first online training of the WBAA online project "Communication is real sensation"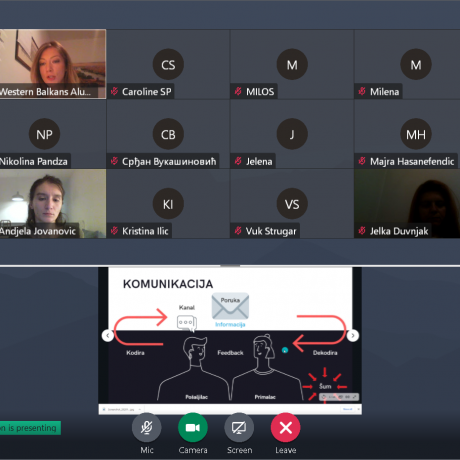 The first part of the WBAA online project "Communication is real sensation!" took part on the 11th of December in 2020. The whole project consists of three educational workshops; one for WBAA members on public relations (PR) and social media in times of the pandemic, which we report on today, and two upcoming trainings for WBAA and possible WBAA members, students and young people from the B&H, Montenegro, Croatia, and Serbia.
The training PR and Social Media Tips and Tricks was very successful with 14 participants from the region in total. They engaged in a two and a half hour long training session which consisted of two sets of input and one exercise followed by a feedback from the experienced trainer Marija Stevuljevic, who had until now around 1700 satisfied participants from the whole world. They learned how to
improve the online presence of WBAA;
which tools, apps, and software they can use to improve WBAA online events;
how to establish better relations with the help of media;
how to benefit from social media algorithms;
how to use new social media features and
how to develop a successful communication strategy that relates to the young people.
The participants were very satisfied with the training which was a combination of both lecture and exercise followed by a specially designed brochure with all secrets that every successful marketer should know to be ready and prepared for 2021. Participants used this opportunity to the maximum to learn and to improve their PR skills. Consequently, a great part of the training consisted of a Q & A session and ended with the conclusion that WBAA should organise more trainings addressing this topic in the near future.
Marija Stevuljević
BiH, 16 December 2020
Edited by Service Provider