28/11/2019 | Events
The project Innovative Startups: Brain Gain, Not Brain Drain (part two)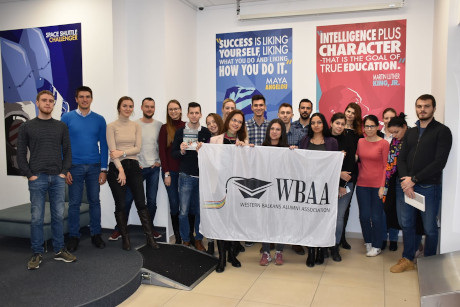 The project "Innovative Startups: Brain Gain, Not Brain Drain" (part two) was organised in Novi Sad, Serbia, by WBAA at the premises of the American Corner from 11th to 13th November 2019.
Originally, we planned with 15 alumni for this entrepreneurship training, but due to the large number of applications 24 participants have been selected and accepted. 18 of them became new WBBA members!
At the beginning of the training, WBAA member, project coordinator and psychologist Vesna Travica, presented WBAA to Erasmus Alumni and organised ice breaker games to help the participants to get to know each other.
During the three days, the participants had the opportunity to learn how to develop innovative and profitable business ideas and how to realize them through interactive lectures and workshops with licensed trainer Nikolina Pupavac and Prof. PhD Vladimir Medović. They got information on how to find financial resources and how to connect with companies in the region and the European Union. They were also acquainted with protection of intellectual property rights.
After the training, the paticipants and the project coordinator gathered at a nearby SAT tavern and enjoyed the ambience, the view to the river Danube and the famous Petrovaradin Fortress and well-known Novi Sad` Clock, as well as the informal conversation, the exchange of bussiness ideas, mobility experiences and plans for the future. New friendships have been made, both personal and professional!
The regional TV public station (RTV Vojvodina) made a reportage about the WBAA, its mission and activities and about the project Innovative Startups and its goals. In this way we increased the visibility of WBAA in Serbia.
As a project coordinator, I am very grateful for the opportunity to meet these young and talented people and to hear their business ideas that, hopefully, will be realized in the near future. Nikolina Pupavac will be their mentor for their future work and we already have new ideas on how to enhance this training, extend it to the entire Western Balkans Region and even to EU countries.
I am particularly proud that all participants found this entrepreneurship training very useful and interesting, and rated the organization and lecturers with the highest grades.
Novi Sad, 20.11. 2019
Author: Vesna Travica, Member of Academic and Career Development Team