13/11/2021 | News
Third Call for WBAA Projects 2021: These projects were selected for the elaboration phase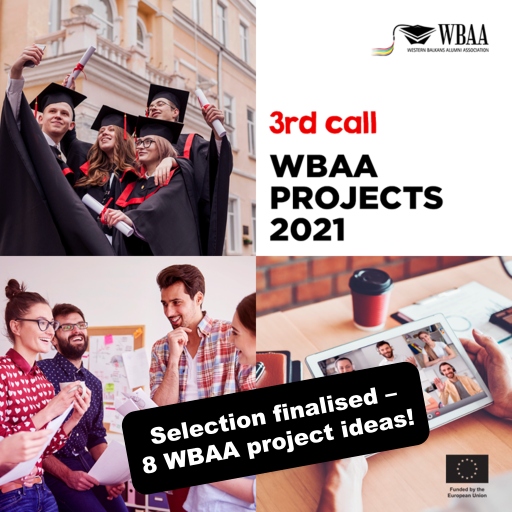 The evaluation of the WBAA projects from the 3rd Call 2021 is now completed. In this call, 9 projects were submitted and we are pleased that 8 projects were selected. The following projects have made it to the next phase:
Self-branding training - personal development, teamwork, leadership, and professional capacity building skills' by Aleksandar Davkov from North Macedonia
Skills and individual values for alumni and future alumni students involved in the European projects' by Kiril Jordanov from North Macedonia
Online Business - Model for overcoming the economic Corona crisis among young entrepreneurs' by Sonja Sovljanski from Serbia
Mobility for beginners' by Adnan Rahimić from Bosnia and Herzegovina
Students exchange portal (studentskerazmene.rs)' by Oleg Slatina from Serbia
Empowering youth in Albania through WBAA alumni knowledge transfer' by Sara Zekaj from Albania
Training of Strategic and Action Planning, and Writing Public Policies, as a Mechanism of Public Advocacy' by Milan Stojanovic from Serbia
Bankruptcy, a forgotten option in the pandemic times' by Vjoela Allkanjari from Albania
The WBAA Regional Board, the EACEA and the service provider were again involved in the selection of the projects. In the next phase, the implementation plan for the projects is developed by the project coordinators together with the service provider. This process will be completed by the end of December.
Congratulations to the selected projects, we wish you every success in the further development of your projects!
Do you have a project idea and want to share it with us? Please stay tuned, the 4th Call for WBAA Projects will be published soon!
By Service Provider
Cologne, 13.11.2021