03/07/2023 | Events
WBAA in NEO Networking Meeting, Brussels, Belgium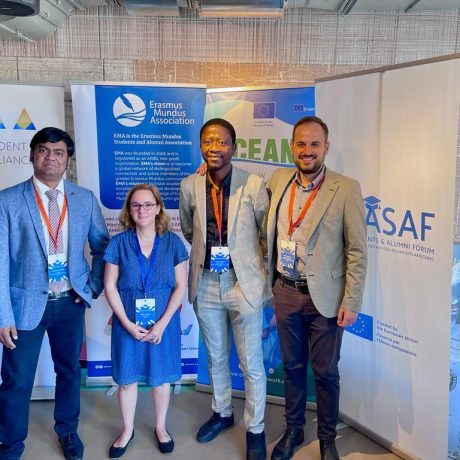 On behalf of the Western Balkans Alumni Association (WBAA), Milan Stojanović was sent by the WBAA regional Board to Brussels, to the NEOs (National Erasmus+ Offices) Networking Meeting, which took place from 13th to 14th of June, 2023, organised by the European Education and Culture Executive Agency (EACEA). The purpose of this meeting was to establish and strengthen the relations between WBAA and local NEOs from the entire Western Balkan region, to exchange contacts and find ways of cooperation for mutual benefit, but also to inform the representatives of the European Commission about the needs and plans of the organisation for the next period.
The agenda started on Tuesday morning, 13 June, with a welcome speech by Sophie Beernaerts, Director acting (EACEA) and Barbara Gessler, Head of Unit (EACEA). Thereafter, Adrian Veale, Policy officer, International Cooperation, Directorate-General Education, Youth, Sport and Culture (DG EAC) presented the main results and priorities of the Erasmus+ Programme.
Besides the Western Balkans Alumni Association, representatives of other sisters and cousins organisations were present as well; Jackson Lontchi on behalf of the ASAF (African Students and Alumni Forum) and Ashiqur Rahman on behalf of the ESAA (the Erasmus+ Students and Alumni Alliance), who presented other sisters alumni networks under the ESAA's umbrella: OCEANS (Organisation for Cooperation, Exchange and Networking: Student & Alumni network of international exchange programmes), EMA (Erasmus Mundus Students and Alumni Association) and garagErasmus (gE).
After a series of sessions related to improving cooperation between local NEOs and the EACEA, the three alumni representatives got a chance to present their organisations.
Following the introductory presentation by Helene Benegas (EACEA), Milan Stojanovic presented the work and results of the WBAA done so far, with special attention to the WBAA's implemented regional projects, and the two largest research undertakings of the WBAA to date: the Tracer Study and the Book Chapter "WBAA as Positive Deviance (in the Western Balkans)". The attendees were most interested in seeing what kind of activists the WBAA organises in the Western Balkan region and how it affects the modernisation of higher education, the acquisition of skills among young people, and the promotion of Erasmus+ and academic mobility programmes in general. The agenda continued with a networking dinner and Cultural Interlude.
On the second day, Wednesday, 14 June, the agenda started with regional meetings on the topic of policy issues, challenges in Erasmus+ promotion and implementation, where Milan attended working group 4 - Western Balkans, together with representatives of local NEOs from the region.
The last session included bilateral meetings with EACEA representatives when Milan presented the future plans and needs of WBAA to become a more visible and relevant regional entity in the Western Balkans.
Milan Stojanovic
Serbia, Novi Sad, 21st of June 2023