03/07/2023 | Projects
WBAA project "Communication and negotiation skills"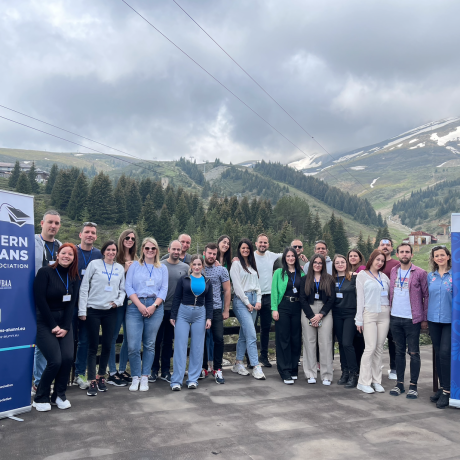 The WBAA project "Communication and Negotiation Skills for Better Mentorship by WBAA Members and Erasmus+ Promotion" was successfully conducted from 18-21 May 2023 at the scenic mountain resort of Popova Shapka in North Macedonia. The event brought together 24 WBAA members and students who actively participated in an interactive training session focused on enhancing their communication and negotiation skills. As part of the project, an info event took place at the South East European University (SEEU) in Tetovo on 19 May.
This event provided an opportunity for students to gain deeper insights into the Erasmus+ program and WBAA as an organisation, as well as learn about the benefits and opportunities associated with them. This training session was specifically designed for WBAA members who seek to enhance their communication and negotiation skills in preparation for their role as mentors, where they shared their experiences. In addition to sessions focused on communication and negotiation skills, WBAA members had the opportunity to visit the South East European University in Tetovo. During this visit, they shared insights about their experiences as Erasmus exchange students, highlighting the opportunities and benefits of being a WBAA member. Conversely, students from SEE University had the privilege of hearing from National Representatives Dejan Galovski and Milan Stojanovic about WBAA, as well as from Aleksandar Nacev (Head of Transition Team), who discussed WBAA Teams and the Sweden Alumni Network. Additionally, a project coordinator shared their own Erasmus study abroad experience and provided guidance to students on how to search for and apply for scholarships.
Furthermore, the participants were able to relish the breathtaking nature of Popova Shapka, engage in hiking activities, and enjoy the spa facilities at the hotel.
Finally, it is worth mentioning that this project was implemented in collaboration with the International Office and Student Parliament of the SEEU. The project also received support from the Sweden Alumni Network Western Balkan.
Srgjan Vidoeski
Tetovo, North Macedonia, 12th of June 2023