09/11/2021 | News
WBAA Project "How to maintain mental stability, positive spirit and increase productivity in the time of covid pandemic" ended successfully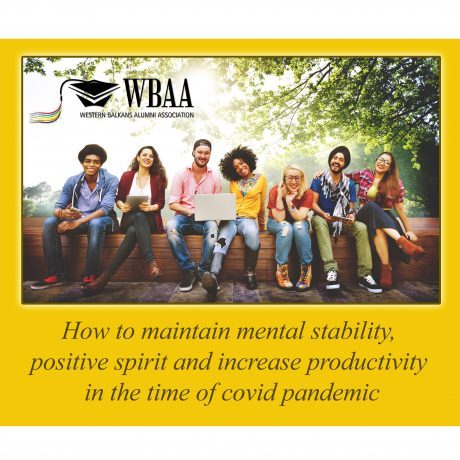 The WBAA Project "How to maintain mental stability, positive spirit and increase productivity in the time of covid pandemic" - two days workshops organized by WBAA, Serbian Centre for RE & CBT Psychotherapy and Project Coordinator Vesna Travica on September 18-19. 2021 - has ended successfully.
We are all part of the global problem that the covid pandemic has brought into our lives: social isolation, economic crisis, reduced productivity, negative consequences for physical and mental health, etc. Psychologists and psychiatrists especially point to the problem of increased confusion, anxiety, tension, aggression, stress and depression, sleep disorders (significant increase or decrease in sleep), decreased motivation for daily activities and reduced productivity, concern for the future, etc. These problems have been observed not only in middle-aged and elderly people, but also in young people, in whom the most important cause of the problem is limited social life.
The main goal of this project was to try to support WBAA members, Erasmus Students and volunteers from six Western Balkan countries to maintain mental stability and positive spirit, which is the basis for strengthening productivity and creativity in the time of covid pandemic.
Twelve participants took part in two days online workshop organized on September 18-19. by WBAA, Serbian Centre for RE & CBT Psychotherapy and Project Coordinator Vesna Travica
Through the activities of interactive lecture, discussions, workshops, practical exercises and brainstorming participants developed basic skills for dealing with stressful situations caused by the covid pandemic. They learned how to turn their irrational beliefs, thoughts and dysfunctional emotions into rational beliefs and thoughts and functional emotions, which is very important for maintaining mental stability. By developing skills how to cope with stressful situations and reduce stress, they will be able to increase productivity and efficiency at their studies, work, social and private lifes.
Vesna Travica, PhD Candidate in Psychology at University of Belgrade, Faculty of Philosophy - Project Coordinator
Text edited by service provider