09/04/2021 | News
WBAA Statute and Internal Regulations successfully voted on during the GA 2021!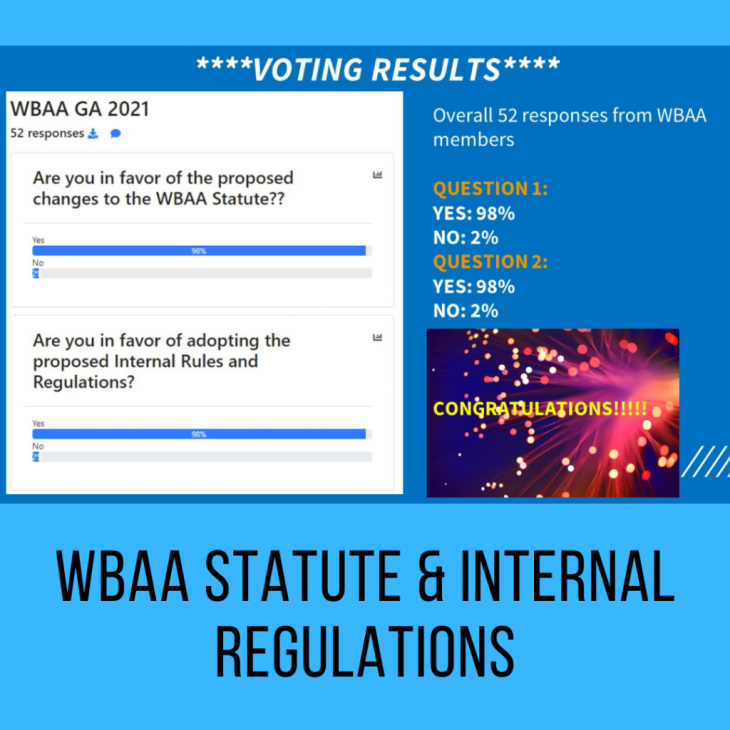 Two important votes took place at the WBAA General Assembly 2021 – online event. WBAA members had the chance to vote on the changes to the WBAA Statute and the document defining the organization's Internal Rules and Regulations.
The Internal Affairs Team (Luka Šterić and Lamija Balta) together with the WBAA board developed these documents over the last two years.
WBAA Statute is the central legal document that determines the very basics of the organization. Although the Statute already exists, some minor changes needed to be made to make the document more coherent and precise. These changes included defining the eligibility criteria for membership more precisely to avoid any further confusion with the acceptance of new members and to make the organization more receptive towards potential new members, defining the procedure for dismissing members of the Regional Board if necessary, defining what will be included in and defined by the Internal Rules and Regulations document, as well as defining eligibility for proposing and voting requirements for amending the Statute.
As for the Internal Rules and Regulations document, the Internal Affairs team needed to write it from scratch. It is a legal document that defines the everyday functioning of the organization more closely, such as the internal procedures for meetings, electing representatives, and voting mechanisms for WBAA bodies - the Regional Board, the General Assembly, WBAA teams, the Service Provider, and National Chapters.
With the great help of the Board and the Service Provider, the Internal Affairs Team has been carefully developing this proposal ever since the last General Assembly in Tirana to work out the most efficient and democratic internal procedures for WBAA.
Now we are happy to inform you about the final results of the Voting during the WBAA GA event.
Overall we had 52 responses to the question "Are you in favor of the proposed changes to the WBAA Statute?" Here 98% agreed with it, 2% said "No."
On the second question "Are you in favor of adopting the proposed Internal Rules and Regulations" we received 98% "Yes" - votes and 2% "No"- votes.
WBAA board and especially the Internal Affairs team is overwhelmed by these great results.
It means a huge step in the growth of the organization to have basic principles, guidelines, and procedures clearly defined and transparent to all members.
You can find the two final documents here (Statute) and here (IR) or in the WBAA Online Community.
Thank you all for your engagement and participation in the voting process!
Your WBAA team
Luka Šterić, April,9th 2021
Edited by Service Provider