06/09/2022 | Events
WBAA Teams meeting in Durrës, Albania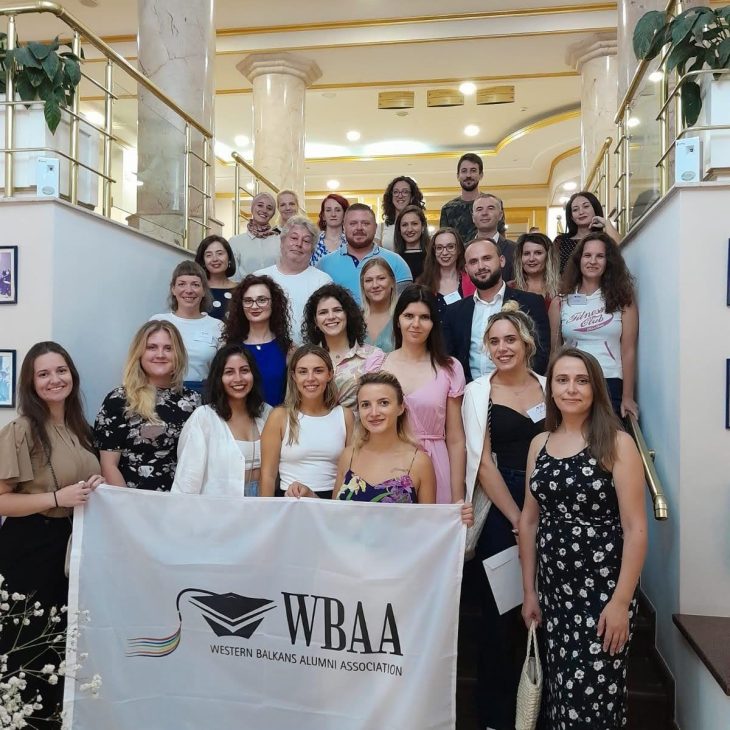 On the 3rd and 4th of September, 23 participants from all four WBAA Teams and all six chapters gathered in Durrës, Albania for a Teams meeting. Representatives from the Service Provider (community and event managers and study expert) and the Board joined them in this first in-presence meeting of the teams after the restructuring. Participants arrived at the venue Friday evening and got together for an informal dinner with a warm atmosphere accompanied by traditional music and dance.
Initially, on Saturday morning, a short overview of the WBAA organigram and the different teams and communities was presented by Mila Lukić during the plenary session. Then, each individual team reviewed their annual plans for 2022, discussing the achievements so far as well as goals and activities until the end of the year. The preliminary results of the Tracer Study were introduced by Martin Unger (IHS) and explored by members from two teams. An energiser after lunch to boost energy and spark creativity increased focus and engagement, while having fun! Discussions continued in the second session about the dynamics and working methods of the teams, potential roles of members, and upcoming steps and tasks to be implemented. During the last plenary session of the day, an open round and sharing of content about the status of the individual teams was summarised by each team leadership.
An outreach dinner was held on Saturday evening, giving the participants the opportunity to better know each other and further share ideas, besides relaxing and enjoying the view. On Sunday morning, three sessions for Leadership Communities and one session for Team Members took place, brainstorming on community activities and related tasks, membership activation, reaching new members, online community use, followed by Teams wrap-up. Finally, the most important topics and conclusions were outlined by Hatidza Jahic, Mariglend Pepmarku, Aleksandar Nacev and Klejda Harasani, respectively for the teams: Higher Education Reform and Equal access to Higher Education, Quality Mobility / student exchange within Higher Education, Transition from Higher Education to labour market and professional life, and Research.
The overall expectations for a fruitful and successful Teams meeting were met, further expanding cooperation and generating ideas between members.
Looking forward to the next WBAA event!
Klejda Harasani
Tirana, Albania, 6 September 2022