29/04/2022 | Events
WBAA took part at the first-ever Erasmus Generation Meeting (EGM)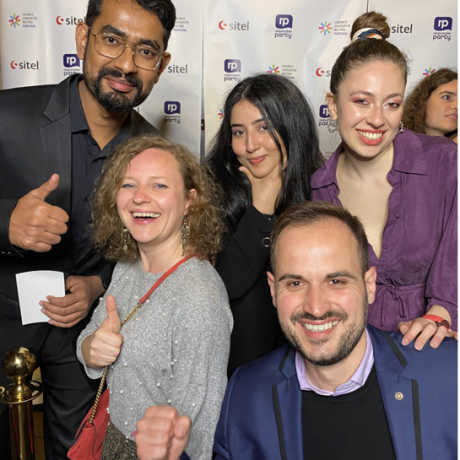 On behalf of the WBAA Regional Board, Milan Stojanovic represented Western Balkans Alumni Association (WBAA) in the Erasmus Generation Meeting (EGM) in Porto, Portugal, from 7th to 10th of April 2022. The event gathered more than 800 volunteers and students from all over Europe to discuss, share, learn, network, and contribute to the future of mobility, but also to the volunteer recognition and employability.
The first-ever edition of the Erasmus Generation Meeting (EGM) brought together higher education students and relevant stakeholders from all over Europe in Porto, Portugal, to discuss the future of mobility and the new Erasmus+ programme 2021-2027. Over the course of a few days, from 7th to 10th of April 2022, the Erasmus Generation event provided opportunities for participation in various sessions and workshops, to learn more about the new programme, mobility in general, to network and bring to the table issues that representatives of the ESN sections want to discuss. Beside ESN, representatives of its sister and cousin organisations such as African Students and Alumni Forum (ASAF), OCEANS Network, Erasmus Mundus Students and Alumni Association (EMA) and garagErasmus had the opportunity to participate in the meeting.
Regional Board Member, Milan Stojanovic, had the pleasure to present WBAA at the event and actively participate in various sessions on the topics of academic mobility, employability, building inclusive communities, power of collaborations, intercultural relations, climate emergency and many other. A part of the event was a Career Fair where participants were able to meet companies and businesses eager to support young professionals and expand their teams, as well as gain valuable insights about their first potential jobs. Among all, two sessions were especially interesting for the WBAA representative in order to increase visibility of his organisation: a Mobility Fair and its Poster Session, as well as an Erasmus+ Student Alumni Alliance (ESAA) Project Brainstorming Session.
During the Mobility Fair with focus on promoting mobility and different educational institutions from all over the continent, WBAA along with its cousin organisations got chance to introduce interested participants to our respective organisations, our missions and goals, the way how we reach our goals, who our partners are and so on. During the Mobility Fair, a poster session took place where participants had the opportunity to approach each organisation's poster to gather more details about each organisation.
Next day, the ESAA Project Brainstorming Session moderated by the ESN international representative took place, where WBAA and its cousin organisations discussed with participants, and among each other, about how we could use ESAA projects and potentially collaborate. An especially interesting discussion was on the relation between WBAA - ASAF and WBAA - garageErasmus since we had many common interests. This session also involved a brainstorming on which types of projects would be beneficial, and how to structure them most efficiently. The WBAA representative used the opportunity to share his rich experience as a WBAA project manager and he put himself in disposal for future regional and international projects.
Aside from the previously mentioned sessions, Milan took every chance to represent WBAA and exchange contact with as many possible participants and partners.
"It was a real pleasure to meet all those organisations and finally to understand that ASAF, OCEAN, garageErasmus and EMA are not only words that we can read in our emails. This was maybe the greatest event that I participated in so far, and I really enjoyed every moment of collaborating with other organizations representatives.
I realised that regardless of our very different geographical locations, we are all committed to common goals and promoting the same ideas. It didn't take us long to become a team that acts as one. Really impressive, and I think we understood each other from day one and until the end of the EGM event we supported each other and helped ourselves to present our organisations best possible. This event will definitely benefit our future activities and maybe the EC should consider a special fund for our joint projects or at least a special invitation for visiting each other's official annual meetings".
Milan Stojanovic

Serbia, Pancevo, April 26, 2022