18/01/2023 | News
WBAA Tracer Study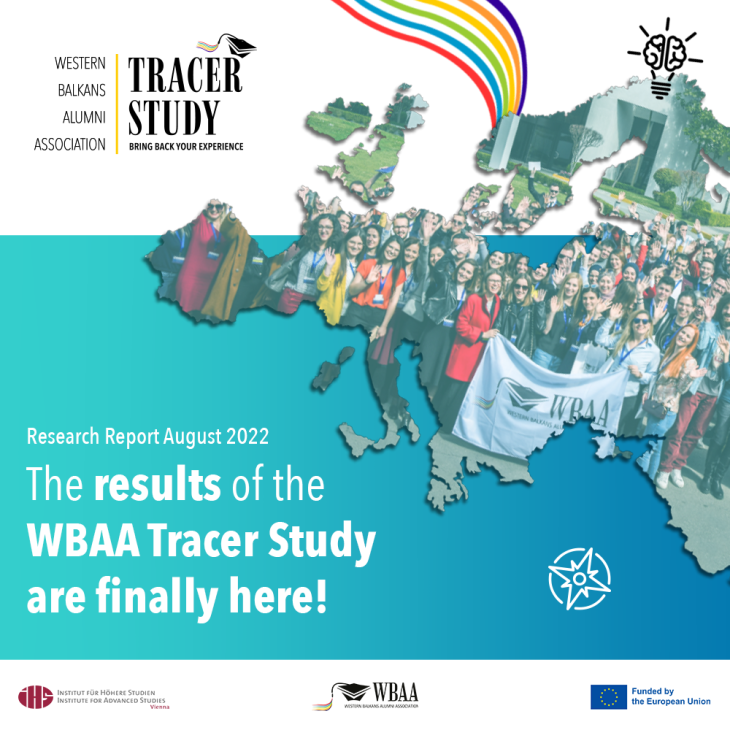 After more than three years and huge efforts, dedication and collaboration by WBAA volunteers from the Research Team, the Institute for Advanced Studies in Vienna, Austria, the Service Provider for WBAA and the European Commission, the Tracer Study is finally published!
The Tracer Study has succeeded to gather alumni relevant perceptions, opinions, experiences, knowledge, memories, pathways and ideas to contribute to the academic landscape and economies of the Western Balkans. The survey addressed students and graduates from the Western Balkans (Albania, Bosnia and Herzegovina, Kosovo*, Montenegro, North Macedonia, Serbia) who have spent parts of their studies outside the Western Balkans, mainly with EU funding (primarily Erasmus).
A total of 1.320 alumni completed the questionnaire and evaluated different aspects of both higher education systems (Western Balkans and the European Union) on the basis of their international study experience focusing on their educational path, the study experience outside the WB, the differences between studies in the home and host country and their recommendations to the higher education systems in their home chapters.
From the Tracer Study results, effective approaches for improvements in the higher education system of the Western Balkans have been identified. In this way, necessary suggested changes in the higher education system will finally be presented to various stakeholders such as regional decision-makers and higher education institutions in the respective countries.
Interested in the central results of the survey?
Check out this report: WBAA Tracer Study 2021 (PDF)
Key results for each WBAA Chapter are summarised in the following Fact Sheets:
Fact Sheet Montenegro 🇲🇪 (PDF)
Fact Sheet North Macedonia 🇲🇰 (PDF)
Fact Sheet Serbia 🇷🇸 (PDF)
Fact Sheet Kosovo* 🇽🇰 (PDF)
Fact Sheet Bosnia and Herzegovina 🇧🇦 (PDF)
Fact Sheet Albania 🇦🇱 (PDF)
The final results of the study will be further disseminated in future WBAA events.
Read more about the Tracer Study here on our website!
*This designation is without prejudice to positions on status and is in line with UNSCR 1244/1999 and the ICJ Opinion on the Kosovo declaration.
Klejda Harasani
edited by the service provider
Tirana, Albania. 16.01.2022