03/06/2022 | News
WBAA Training - How to Become a Digital Marketer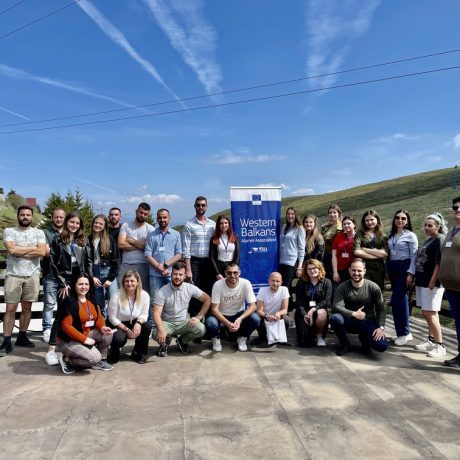 The project How to Become a Digital Marketer was successfully held from 12-15 May 2022 in the mountain resort "Popova Shapka" near Tetovo, North Macedonia where WBAA members and young enthusiastics from the Western Balkan region participated in an interactive training session about digital marketing.
24 motivated participants were selected for the training sessions. They consisted of WBAA members and young students from North Macedonia, Serbia, Montenegro, Albania, and Kosovo.
The main idea of the project is to inform the young people of the Western Balkan Region about the opportunities of digital marketing and provide educational resources in the field of digital marketing. This was reached through different training sessions regarding this topic. The field of digital marketing has already been explored in other countries as it is very popular globally, however it is not properly discovered in the Western Balkans yet. The Western Balkan countries need to follow the global trends and educate young people about this topic. The goal of the project is to educate WBAA members about digital marketing and create future young digital marketers who will be competitive in the labor market.
The training session was designed to include interactive lectures, workshops, as well as group work. The participants were given a chance to work in groups where they worked on their imaginary brand and had to create a strategy for the presence of that brand in the online world. They made a logo for the brand, defined the target group of the brand, and then made an Instagram post for their product and imaginary brand. Also, they discussed the latest trends in social media marketing and exchanged their experiences and thoughts about digital marketing in general.
The participants learned how to create a digital marketing strategy for the brand and the essentials of digital marketing. After the training, they had a clear picture of the all components of digital marketing and what the next steps are if they want to upgrade their skills and start to work as a digital marketer.
Additionally, the participants had the opportunity to enjoy the beautiful nature of mountain Popova Shapka and practice hiking.
Finally, I would like to mention that the implementation of the project was logistically supported by NGO Studio 212 from Tetovo and CNELL from Tirana.
Furthermore we have established a collaboration with the Student Parliament of South East European University from Tetovo.
03 June 2022
Dejan Galovksi
edited by the Service Provider