23/09/2019 | Events
WBAApreneurs: Future Western Balkans Entrepreneurs in Pancevo, Serbia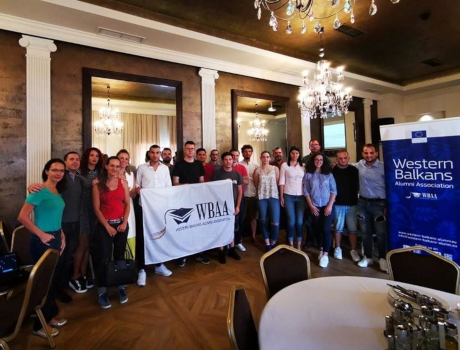 On behalf of the Western Balkans Alumni Association, an ice-breaking project organised for the first time by one WBAA member took place in Pancevo, northern part of Serbia, officially called Autonomous Province of Vojvodina from 13th - 15th of September.
Twenty participants from four Western Balkan countries gathered in Pancevo, in the Hotel Grand Hedonist, for the purpose of socialising, networking, developing their entrepreneurial skills and WBAA promotion.
20 people carefully chosen by their motivation, professional background and international experience had a chance to work two days together and individually with a professional coach on how to transfer an idea into a business model, importance of green and eco-sustainable business models for our future as well as developing their own ideas individually.
Beside an intensive training course and organised city tours, during which participants had the opportunity to see one of the most beautiful quay in Serbia, the Tamiš river quay, the remnants of the oldest brewery in the Balkans, Weifert brewery and the Austro-Hungarian heritage in the city, attendees had two evenings and one afternoon reserved for socialising, networking and deepening the links between the WBAA members. This was very important because of the fact that even eight new WBAA members from all 4 project countries were promoted at this event.
Lisbon, 19th September 2019
Milan Stojanovic, member of WBAA Academic and Career Development team