11/01/2023 | Events
Western Balkan Youth gathered in the European Capital of Culture for ecology lessons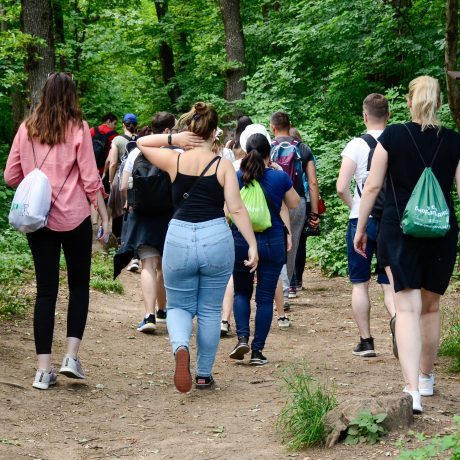 Western Balkan territory overlaps with the Mediterranean biodiversity hotspot, which is one of 36 areas in the world. A biodiversity hotspot is a biogeographic region with significant levels of biodiversity that is threatened by human activity. Furthermore, the continental part of Western Balkan contains some endemic species and distinctive habitats. It is well known that human actions (urbanisation, agriculture, unsustainable development) negatively affect the natural environment which leads to a decreasing number of species, habitat destruction, global warming etc.
Of the youth's lack of awareness of the problems, we felt that an interactive seminar is needed. In cooperation with the Ecological organisation "Green Seed" (given help was to choose adequate experts and organising the ecological day in National Park), we organised a conference where we involved experts with different job titles (experts from the Ministry of environmental protection, National Park, a professor from the University of Novi Sad (WBAA cluster 3 covered) etc) but the same area of expertise – ecology and environmental protection.
This project is the first of many categories/things that was organised by WBAA members:
Brought expert from a country outside of Europe to share European values and experience (WBAA cluster 5 covered) from two sides – ecology and Erasmus+ experience (WBAA cluster 1 covered).
Bringing local students to the project to promote WBAA goals, ideas, and student exchanges.
First WBAA project held in Novi Sad and the first in one of the three European Capitals of Culture in 2022., between 19th-22nd May.
Connecting very different topics – project and project writing, ecology, environmental protection, higher education and science.
First ecological oriented among WBAA projects
The project goal was to increase awareness of environmental problems showing the necessity and possibilities for future project ideas. Our actions don't affect just our surroundings, it affects nearby cities, regions, and even the country. Therefore, we wanted to educate our youth (40 of them) about possible public calls for projects in the above-mentioned area.
The participants who came were very happy about this opportunity since there has not been a project of this kind before in Novi Sad with this high-quality of lecturers. At the end, they were even encouraged to apply for more funds (national and EU ones). Participants were really motivated to actively participate in the training, responded very well to all activities, and were very interactive during the theoretical parts of the training, asking every lecturer at least three questions which were the most important specific objective.
Milan Babic
edited by the service provider
Serbia, Novi Sad, 19th-22nd 2022