25/07/2019 | Events
Widen entrepreneurial view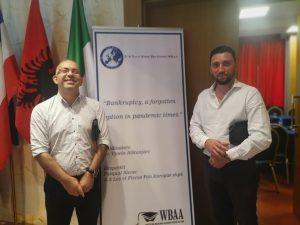 The participants gained new ideas about teaching methods that they can apply in class and introducing them to entrepreneurship from an investor's point of view made them think about their own businesses.
The project gathered about 70 people consisting of multiple stakeholders, such as students, WBAA members, professors and representatives of the public administration.
The agenda and the fruitful presentations allowed us to achieve our objectives:
We reached more audience which was easily succeed by the blend of the 2 projects. This was also achieved through the increased visibility of our events by sharing it on social media (University Facebook page, high schools and primary school pages, organizers personal accounts and Instagram stories), stakeholder websites and our moodle portal.
We presented the Erasmus+ programme and its benefits in order to motivate people to get involved. The event ended in answering the participants questions based on our personal experiences.
We presented WBAA and increased the amount of WBAA memberships. During the presentation the participants were highly interested in our association.
We provided the participants with an approach that they can apply when carrying out projects or events. By introducing new teaching methods, we aimed to improve the participants performance in class and higher education. Therefore, entrepreneurial methods were presented which students used in order to find solutions for problems, such as the safety near schools due to increased traffic.
By presenting entrepreneurship from an investor's point of view, the trainer was able to motivate the participants to stay on WB territory and open their own businesses in future.
The satisfaction of our participants was underlined since we were approached by many individuals in order to invite them for any upcoming events.
Author: Tamara Petreska